Low Carb Pancakes and My Childhood Reminisce
One of my and my brother's favorite books growing up was Farmer Boy by Laura Ingalls Wilder. We'd read it over and over again! Why, you ask? Because it's chockful of food descriptions! Almanzo's mother and sisters make all kinds of yummy treats through out the book, including fried chicken, doughnuts, and pancakes! Stacks and stacks of pancakes dripping with butter and syrup. I mean, listen to this quote! "But the little blue platter stood hot on the back of the stove, and ten stacks of pancakes rose in tall towers on it. Ten pancakes cooked on the smoking griddle, and as fast as they were done Mother added another cake to each stack and buttered it lavishly and covered it with maple sugar. Butter and sugar melted together and soaked the fluffy pancakes and dripped all down their crisp edges. That was stacked pancakes. Almanzo liked them better than any other kind of pancakes" (Farmer Boy,1933). Don't you wish you lived in this household?!
"Ten stacks of pancakes rose in tall towers…buttered lavishly and covered with maple syrup"
Pancakes hold a special place in my childhood heart. They were a regular part of our weekend mornings. Still are. Being on Keto right now, I'm not about to give up my weekend pancake fix! These pancakes are Keto friendly, dairy-free, grain-free, and refined sugar free. I used the very last of my Kite Hill cream cheese to create these. Sad day, must buy more. My first round didn't hold together well and completely stuck to the pan so I added a couple of tablespoons of Bob's Red Mill Paleo flour mix to the batter and they turned out much better! Spread with a little almond butter and a big pat of regular butter (or a dollop of coconut whipped cream like me!) these low carb pancakes will satisfy any craving you have for a classic weekend breakfast staple!
Note: Make sure you use a non-stick pan. These tend to stick much easier than regular pancakes, even after greasing!
Low Carb Pancakes
Keto friendly, Paleo, and Dairy-Free, these low carb pancakes are sure to satisfy any craving for this classic weekend breakfast item!
Ingredients
2

tbsp

Paleo flour mix

I used Bob's Red Mill

1

cup

almond flour

Don't use almond meal, it's too grainy

2

tbsp

coconut flour

1/4

c

dairy-free cream cheese

I used Kite Hill

1

tsp

baking powder

4

eggs

2

tsp

stevia

1/3

c

almond or coconut milk

1

tsp

vanilla extract

Ghee or coconut oil

for frying
Instructions
In a large skillet, melt ghee over medium-low heat.

Stir all pancake ingredients together in a large mixing bowl until smooth. If too thick, you can add a little more milk until you achieve desire consistency. Don't make it too thin though, or you'll have a hard time flipping these pancakes!

Pour an 1/8 cup of batter into pan. Cook until lightly browned and flip over to cook the other side. Add more ghee to the pan in between each round of pancakes or they'll stick. Repeat until all batter is cooked. Top with desired toppings and serve warm.
Recipe Notes
These pancakes do best if you make them silver dollar sized. Too big, and they're hard to flip!
This recipe was written in conjunction with the Recipe Redux. To check out more "Childhood Favorites" from my fellow bloggers, click on the Recipe Redux button below for more scrumptious recipes!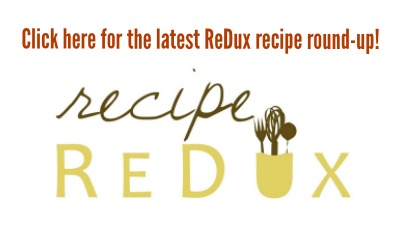 ---
---